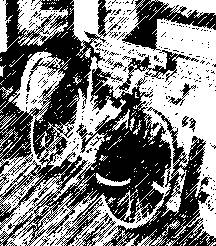 With most endeavors the full scale of it doesn't hit until you start, or at least start and then work out what still has to be done to complete the job. This was certainly true of the preparation for cycling from Sydney to Darwin. As the deadline rapidly approaches certain non-essential things get skipped, like sleeping and eating. I kept track of all the outstanding tasks using my trusty white board which held 15-20 to-dos at a time. This can be quite helpful in providing peace of mind when there are really 150 things that need to be done, and no more than twenty ever make the list at any one time. The rest are allowed to be conveniently forgotten about. By Thursday I was filling then cleaning off after completion about three whiteboards per day. I was hoping to watch a bit of the Australia versus England cricket after sorting out my tax affairs. When I finished it was 3:30am and the match was well and truly over (with the obvious result :-)). I knocked off 4 white boards on Friday, but I had an easy day on the final day of preparation finishing off the two remaining white boards with time to eat a meal. All before 2:30am. All I left till departure day was to I write out the list of accommodation numbers from the RAA guide, recalibrate the bike computers, double check my credit cards etc, fill the water bottles, fix the ..... etc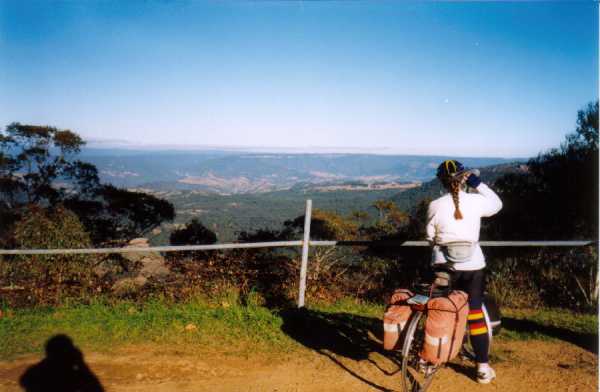 It was a beautiful sunny winters day in Sydney as we started plodding through the back streets of Riverwood and Bankstown. Part of this route covers a short section of bike path along Salt Pan Creek. One of the safety features of this bike path is a lengthy section where there is a $500 fine for riding your bike on it. As the Blue Mountains loomed in the distance they stopped looking quite so blue, or small. At the start of the climbing we planned on reaping the rewards of our comprehensive intense training program. Unfortunately our training program was neither intensive, nor completed. As we suffered terribly up the rather modestly graded climbs I tried to figure out where we'd be by the time we'd acquired enough fitness for the trip. I suspected Darwin.
On these first few days we bagged a succession of long and steep hills as we crossed the Blue Mountains and travelled across the western slopes. On one relatively gentle descent Linda's rear pannier managed to bounce half off, and we stopped to quickly slip it back on. With one bark and wag of his tale a kelpey lept towards us from a nearby farm. Instead of the more typical attempt to bite our ankles, this guy wanted a pat on the head and to slobber on our legs. With that he dashed off into the roadside scrub. We thought that was the last of him but he'd really bolted 100 yards ahead to lie in wait for an ambush. He did this twice, and as we gathered pace we forcefully told him to go home. Which, somewhat surprisingly, he did.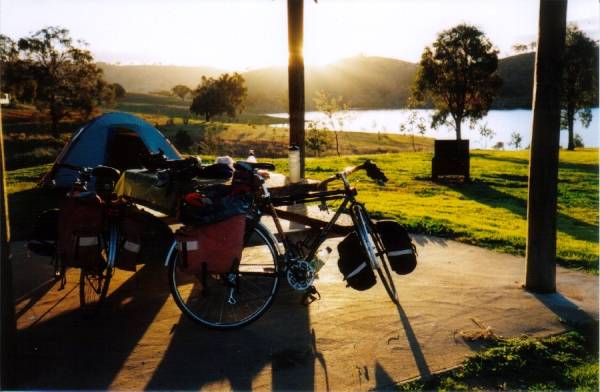 Almost. We looked back, and there he was chasing us again. We were clocking along at ~45 clicks, but he was still keeping contact. For a moment he stopped to ambush a few passing cars instead, and we flew down a steepish pinch, across a bridge, around a bend and out of sight. We'd lost him.
Not quite. As we slowed to climb away from the bridge we looked over our shoulders to see him nearly a km back, still chasing us. To add to the excitement he was running right down the road's center line dodging and barking at the passing traffic. We might have outpaced him going down the hill he caught us pretty quickly on the way back up. We were not really enough competition for him, but he kept following us, attempting to ambush overtaking cars as we went.
15km down the road all three of us reached the town of Ben Bullen. Town is a very strong word for two houses but we were able to borrow a phone (the dog's owner's number was on his collar for some strange reason) and some rope. While we did this he kept crouching by the road and ambushing parsing cars. He knew enough not to try it with the trucks though. After bribing him with a muesli bar we managed to get him tied up safely away from the road. When his owner turned up we learned he was a working dog without any work to do. One of his other tricks is to jump onto the back to passing utes to hitch a lift to the nearby pubs.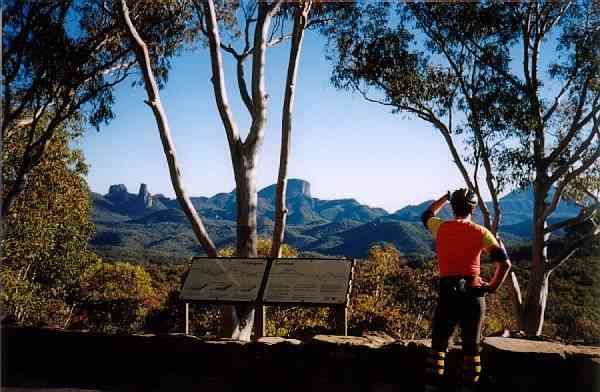 A lot of smaller rural towns in Southern Australia are struggling, so are turning from agriculture to tourism to make a better living. Gulgong is a quiet old gold rush town, the sort of place all the locals slow down (from 30kph to 10kph) to checkout the exciting new developments, like a freshly dug ditch for a new telephone cable. Like a lot of such places, Gulgong is struggling to establish an identity as a recognisable tourist attraction. As we headed to town along Henry Lawson Drive we rode past the Henry Lawson Vinyard, next to the Henry Lawson Winery, just across the Henry Lawson bridge that spans the Henry Lawson river, past the Henry Lawson Memorial (a picnic table) next to the Henry Lawson Estate. After seeking directions from the tourist information at the Henry Lawson Centre we headed to our final destination, the Henry Lawson caravan park.
After a memorable couple of days cycling and walking in the Warrumbungle Mountains we cycled over the main range for the last time. We were pretty pleased with ourselves climbing the toughest of the hills almost as quickly as we did without the panniers on the previous days. I went flying down a short but steep descent leading to the next climb. Linda set off to follow. After just a couple of bumps one of Linda's front panniers hopped off it's rail. This happens to us occasionally (once every few years), but this time the pannier got caught the edge of her bike's ultra light front mud guard. This ripped the mud guard, snapping it at it's support and into multiple pieces.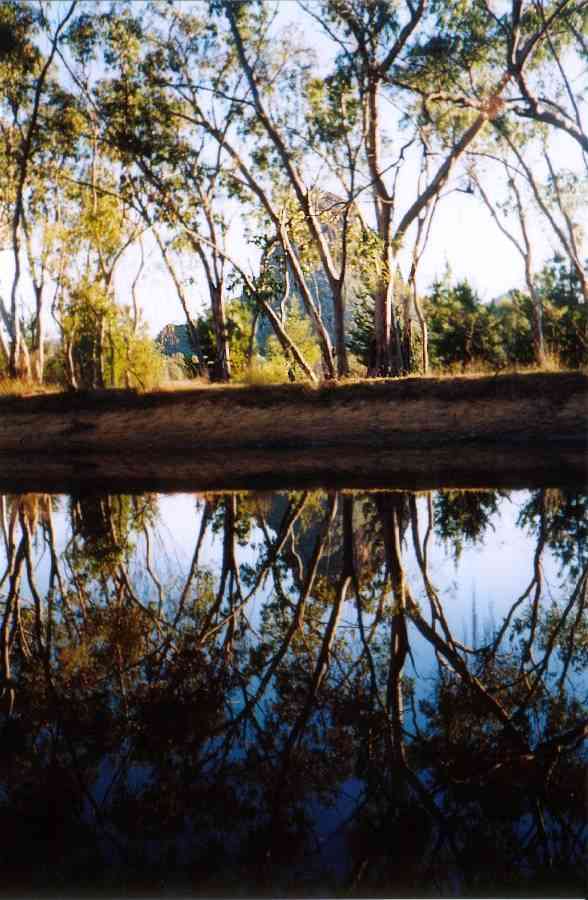 As Linda was removing the remains of her mud guard, I was around the next bend allowing my momentum to carry me part way up the next hill, all the while looking over my shoulder worrying about what had happened to my partner going down the hill. I came to a stop and vowed to wait a full minute before back tracking. Ten seconds later I was out of the saddle powering back down the hill as fast as I could at maximum panic level. I was in top gear and at top speed when my front pannier leapt from it's rail.
The pannier caught the mug guard, the mud guard caught the wheel, the mud guard snapped in three, the struts supporting the now ex-mud guard lodged in my front wheel spokes. It felt like the front wheel had just imploded, as it locked solid throwing me at 50km/hr head first onto the bitumin. I'd just experienced the very thing I was worried had happened to Linda. My partner found me limping vaguely down the road carrying a water bottle and rambling about how my bike had imploded, all the while leaving a trail of blood back to the remains of my bike.
An hour later (after I patched up the bikes with a spanner and Linda patched up me with the band-aid kit) we were back on the road. The road toll stood at one water bottle cage, two front mud guards, a segment of my helmet, one seriously deformed front pannier rack (which seemed to take most of the impact) and a rather damaged ego.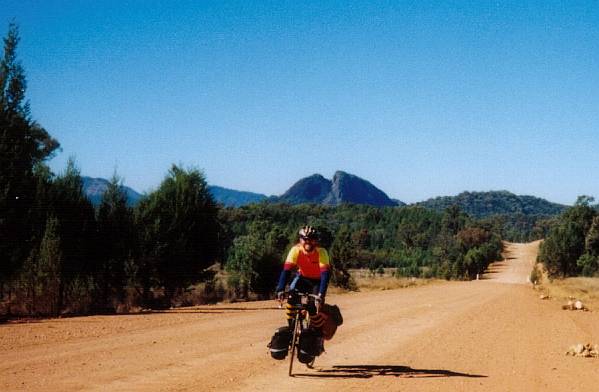 Walgett is a very uninspiring place. The grandeur of the town's water tower is the kindest thing I've heard about the place. Approaching town the vibes were bad. The friendly waves exchanged with passing motorists seemed to disappear, replaced by sideways glances As we ride into most towns we usually enter through the small holding properties, then through the industrial areas on the town's outskirts, past the residential houses then into the commercial centre. In Walgett the industrial zone was obvious enough, but the residential and commercial zones didn't really look any different. Most tourist information places have at very least a few brochures on display, but at Walgett's version (the council shire offices) the staff there had to search through mountains of paper and folders for the most basic town info. It had obviously been a long time since a tourist had asked for tourist information. Even this echoed the sentiments we'd heard most approaching town. "Keep on going and don't stop till the next town at Lightning Ridge". The first thing our hosts for the night (and everyone else we've told we were going to Walgett) suggested was that we needed to lock up our bikes very securely. In most Australian country towns it's impossible to walk down the main street without having to exchange a few hundred "G'Days" to whoever happens to be there. Here if you smile at someone they are more likely to look away than smile back, and there was a definite air of suspicion everywhere. We'd heard heaps about the 'aboriginal problem' in Walgett. Maybe there is an undercurrent of racial tension here that I missed, but it seems to me no-one seems to like or trust anyone else much.
Lightning Ridge is an opal mining centre with a curious name. Supposedly a flock of 600 fluffy white sheep were instantly converted to crunchy black lamb cutlets with a single bolt from the sky. Sounds more like a Monty Python sketch to me. "No Sir, I did not sell your sheep over the border in Queensland, they were happily grazing away on that ridge and they were killed instantly by a bolt of lightning". Unlike Australia's other opal mining town of Coober Pedy, "the Ridge" has both trees and grass but no underground houses that I could see. That doesn't mean there are necessarily any building regulations. Lack of planning controls have allowed residents to construct their dwellings out of glass bottles, old trams, old trains and in one case construct a complete 12th century European castle. However the most common type of residential dwelling is a pre-fabricated kit home. There are a lot of large and thriving commercial buildings and businesses in the centre of town, far more than needed to support the few streets of actual houses. The sign at the entrance to town proudly proclaims "Lightning Ridge: Population ?". Apparently about 1200 people are registered to vote here, but 10000 collect mail from the Post Office. Very few of the "residents" bother themselves with unnecessary red tape like GST, BAS, TAX etc. It's Australia's concept of a tax haven. Just out of the official town are a myriad of tracks and opal mine workings, most of which have a caravan and accommodate the not so phantom population. The concept of street numbers here is generally regarded as rather too formal. The track to your lot is identified by an appropriately coloured car door hanging from a tree.
Our first bush camp came in Queensland ("the Sunshine State"), after frosts and sub zero mornings further south meant we used our tent rather infrequently. In fact only once. After ten hours on the road constantly pedalling into dust ,flies and headwinds it is always comforting to crash into nice comfortable sleeping quarters clean and refreshed to allow one's body to stop complaining. Unfortunately we only had our tent and sleeping bags as we wheeled our bikes up a cattle track on dusk. The discomfort of thrusting an exhausted, sticky, smelly, unwashed and underfed body into a stuffy sleeping bag is so palpable that it takes almost fifteen minutes to go to sleep. Bush camping with dig-it-yourself latrine facilities have one handy feature. On those desperate mornings the toilet can be constructed after it has been used.
After five days of riding into incessant headwinds across western Queensland, team moral hit rock bottom as news reached us that a lone gunman abducted and probably killed and English tourist on the Stuart Highway in the Northern Territory. Some of the roads we needed to use were closed completely while others were secured with road blocks and some very strong police advice not to use them unnecessarily. I'm prepared to accept some level of risk riding bikes on public roads, but I draw the line at being shot! The description of the gunman and his vehicle might have seemed distinctive in a city, but as we well knew applied to about 25% of the Territory's population. The tailwind that was at long last propelling us along with blissful ease seemed like a blessing from heaven, even if we felt like ducking every time we were passed by a white four wheel drive.
Queensland is big. The farms are big, the roads are big, the pub verandas are big, the beer is big, the trucks are huge, the hats are certainly big and even the sky is big. At times we rode for hours seeing nothing but dead grass from horizon to horizon. No cows, no horses, no fluffy white sheep, no water and certainly no trees, just hundreds of miles of dead grass. Little or no surface water means town water comes out of ground bores. In parts of central Queensland water is tapped from the great artesian basin, a huge aquifer that covers almost half the continent stretching from near Adelaide to Papua New Guinea. It is the lifeblood that has enabled agriculture in this part of the world, but more than that; it stinks. It is sulfurous in the extreme. No matter how many times I rinsed it out it always tasted like someone had farted in my water bottle.
By Longreach, in the middle of western Queensland, the weather was finally warm and sunny, and the winds kindly. Whenever we get head winds I feel it is either bad luck, or some dreadful conspiracy to sap the power from my legs and the enjoyment from my soul. But whenever we enjoy effortlessly sailing down the road with the breeze at our backs and a spring in our pedals, that's just good planning on my part. "Where's your tan?" people started asking as for the first time we exposed our now anemically white skin from under our head to toe limb warmers. "That way" I'd respond, as I pointed further north.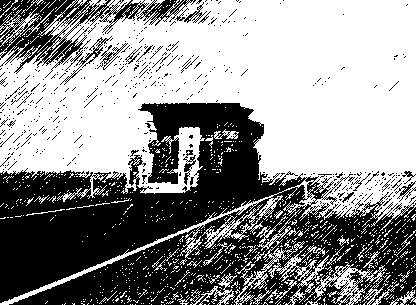 Plenty of people we met along the way commented on how they'd love to do what we were doing, but were "too old". After almost a month on the road and more than half way to Darwin we met our first other cycle tourist. Bill looked to be in is late fifties and was travelling extremely lightly, with a swag on the back and a granny basket on the front of his ancient heavy steel and rust mountain bike. After talking for a while (Bill's specialty) we learned he has cycled most of Australia at least twice, having only taken up bike touring after age 60. He is now 72.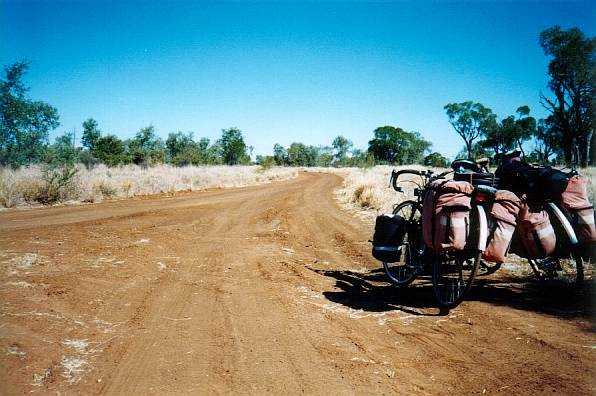 The hills between Cloncurry and the mining centre of Mt Isa were somewhat unexpected after weeks of riding flat open country, but they are sensationally pretty. Rich red hills and cliffs chiseled out of the dry outback pimpled with off green spots of spinifex grass all looking magnificent as they baked under a deep blue sky. This is Australia at its beautifully rugged best. However nice to look at, riding this road is not without other excitements. Usually Australian road trains are only allowed on wide straight flat roads with good visibility. This road was not straight, rarely flat, had shocking visibility and at no point was wide enough for a car, bike and a ore hauling road train snaking all over the place in the breeze. Even where there were no cliffs, embankment drops or that cyclists scourge - guttering, the road verges (where we headed all too frequently) are coated in lovely spiky plants genetically engineered to perforate bicycle tyres.
Mt Isa is a mining centre that has been digging zinc, copper, lead and silver out of some huge ore bodies for the last seventy years. This is not a dying regional sub-centre, but a thriving community going from strength to strength. It's the first place in more than 2000km of cycling that's prosperous and fortunate enough to boast a McDonalds family restaurant. Isa looks like a modern prosperous town in the east, and a mega high intensity industrial works downwind in the west it has a vibrant feel that comes from most of it's 22000 residents being young. There is a sulphuric acid plant, full size supermarkets, serious underground copper mines, 10 primary and several high schools, underground lead zinc and silver mines, an exceptional array of takeaway food outlets, more tattoo shops than I could count, fantastic sporting facilities, a copper smelter, a dry river bed, a lookout cum water tower, heaps of workers and other well attended recreation clubs, a lead smelter, a hospital, a huge emissions stack from the lead smelter and a special school for intellectually handicapped children.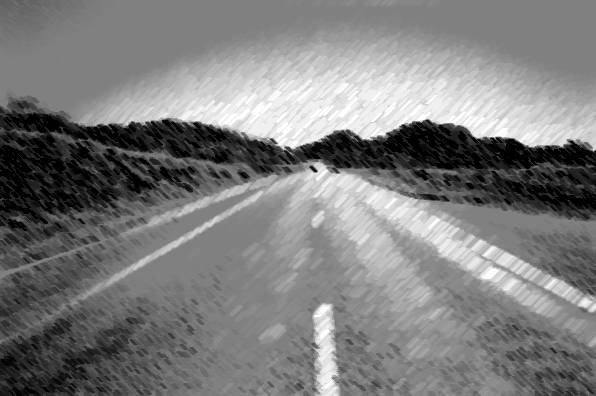 The road west of Mt Isa was constructed during World War II, and in quite a few places there has been no work done since. There are long stretches if "16 foot" bitumin, which is about a lane and a half. A cyclist enjoys passing within a metre of the oncoming traffic while trying to hold a very straight course. This is one time I didnít appreciate the other travellers giving us a friendly wave. I much preferred they kept their hands on the wheel!
The Barkly Tablelands is an enormous semi-arid region of undeveloped cattle grazing properties. In a few choice places graziers have attempted to "improve" the land by clearing the native vegetation and replacing it with grass. However most of the country is deemed too dry, and these deserts remain covered with salt bush, shrubs and stumpy eucalypt trees. Unlike the farms, these arid zones look deceptively lush, green and generally much more appealing. Mind you, there is an awful lot of it. At one memorable point, a slight hump in the road allowed us to see the road stretch straight to the horizon 50km to the east, then to turn and see exactly the same view for 50km to west.
Everyone who has travelled the outback of Australia encounters cattle grids. They are a series of rails across a trough in the road that usually mark most property boundaries where the proprietors have not built fences separating their cows from the highway traffic. The cows might be allowed to wander on the road and be hit by a truck, but they sure aren't allowed to wander onto a neighbour's property! The idea is the stock won't tread where they might get a hoof stuck. Motorists and cyclists (we to walk our bikes over these rather than risking a fall - or worse a set of matching punctures) get ample warning of these impending obstacles with road signs and reflective barriers. Around Barkly Homestead the familiar warning signs and reflective barriers exist, which seems to be enough for the cows as rails have not been embedded in the road, they've just been painted on it.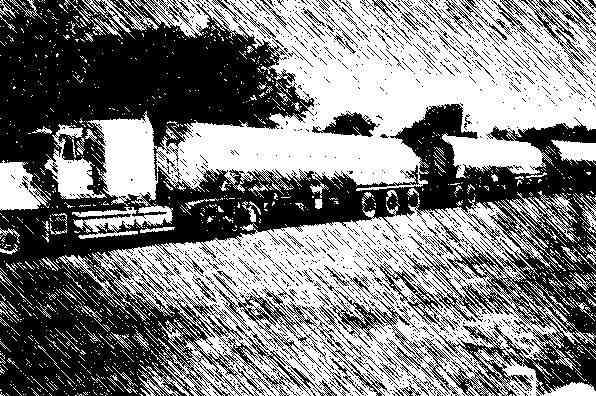 Oncoming road trains when the wind is from the left usually shoot past leaving nothing but noise and the smell of their bovine cargo's excrement. But when the wind is from the right it's a different story. I keep thinking of the line from Indiana Jones and the Last Crusade where Harrison Ford is trying to work out the puzzle to the booby trap and is stammering "penitent man? penitent man? only the penitent man shall pass - KNEEL !!!!". When the burst from a Road Train hits me I duck my head and pray it doesn't get chopped off. WHOOSHKA !!. 35kph to 15Kph in 0.2 seconds. Or 35kph to 25kph for the second rider with predicable consequences.
At the aptly named Attack Creek we met Daniel and Holly. Daniel has been cycle touring Australia for the best part of the past 15 years, after a family court settlement left him destitute. He's been touring on the smell of an oily rag with a home made bike ever since. Short, 49 and dressed like a down market hobo Daniel makes an unlikely looking cycle tourist, but his endless quick fire repartee and enthusiasm is quite infectious. With Daniel's assistance, Holly aims to be the first Aboriginal woman to cycle from Darwin to Brisbane. She's riding a 27" old clunker that Daniel is constantly repairing/adjusting, and the pair are bush camping (really bush camping - with damper and genuine bush tucker) all the way while raising money for the children's unit of Katherine Hospital. Twelve hours before we met them they'd raised $250. But on this day they'd sold their story to the local TV station and achieved corporate sponsorship raising $25,000 for the cause. Holly claims direct ancestry from the aboriginal war party which successfully (and bloodlessly) turned back John McDowell Stewart's exploration party trying to find a route north in the early 1800s.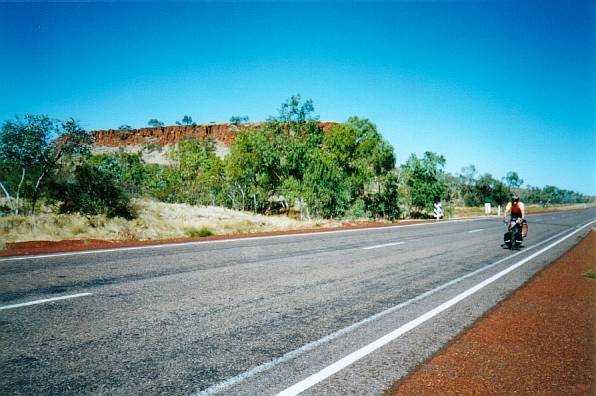 It takes a lot of effort to lift the sizable body of a Wedgetail Eagle into the air, so they are very reluctant to leave a feed unnecessarily. On one rare descent through a small cutting I slipped by a piece of road kill, triggering its feathered owner to try an escape just as I passed. For five glorious seconds I had a fully grown Wedgetail Eagle flying at shoulder height right next to me in the adjacent lane. For another equally magical five seconds this magnificent bird was flying ahead of me down the road no more than 2 metres off the ground and less than 5 metres from my front wheel. Fortunately he had already dropped his ballast before this maneuver.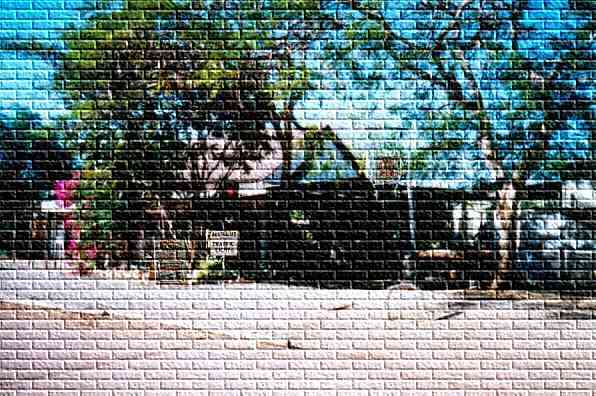 The Daly Waters pub is a few Ks off the Stuart Highway, and unlike all the other fine establishments on this road, this place has to attract it's patrons. At first glance it looks like a really old outback shed that sells beer. The main building looks like a semi-random assortment of bare tree logs clad with an odd array of old car windows and loose sheets of corrugated iron. The multitude of non matching tropical plants and cactuses growing from every nook and cranny appear to be the only thing holding the pub together. Closer inspection reveals this to be a facade, as there are some well hidden steel poles supporting the main bearers, aluminum guttering and various other modern construction features, well hidden of course. The Daly Waters public bar is encrusted with a variety of signed international currency, photo ids and underwear of the various visitors from around the world. The pub is also littered with signs, each containing a joke of some sort. It starts with a sign reading "Australia's Most remote Traffic Lights" beneath a curiously placed set of lights permanently asking passers by to stop. There are thousands of them, and every one has a joke of some sort. "OOL- there's no P in our Pool", "Credit extended only to women over 80 accompanied by their mothers" among others. The jokes weren't necessarily funny, mostly low level toilet humour, but there was nothing particularly offensive and (unlike typical roadhouses) they didn't try to insult their customers. There was a guy sitting in the bar with a bird cage on his head as an old guy with a well worn slouch hat sauntered up the main street (OK, only street) to lasso his well groomed horse on the pole outside and wander in for a beer. In fact it's hard to tell where reality ends and the show begins. The evening entertainment is accurately targeted to the fifty or so caravans of grand parents the pub packs in every night. More low level toilet humour, a "chook rooting" competition (which wasn't as tasteless as it sounds) and a 9pm completion time. A lot of thought has gone into this business, much more than they would have you believe, and it was all good fun. Even Bill Bryson had trouble making fun of the place.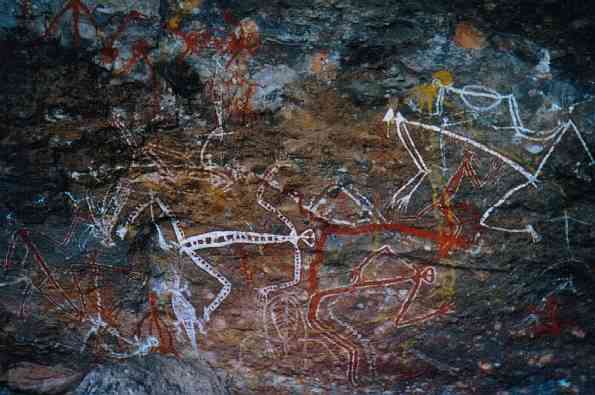 Pine Creek is a gold mining and (allegedly) marijuana growing town nestled among the tropical pandanus palms and gum trees of far northern Australia. It is only just getting into the swing of the tourism boom sweeping the Northern Territory. The town has a new golf course. New in the sense that it used to be the horse race track. On this golf course the your are less likely to land your ball in a sand trap than have it bounce off a four metre high termite nest, and the fairways are distinguishable from the rough by the fact the grass is below waist height. However it does allow the Pine Creek locals to operate a club with a sporting club's liquor license where they can socialise now that the town pub has been turned over to the tourists.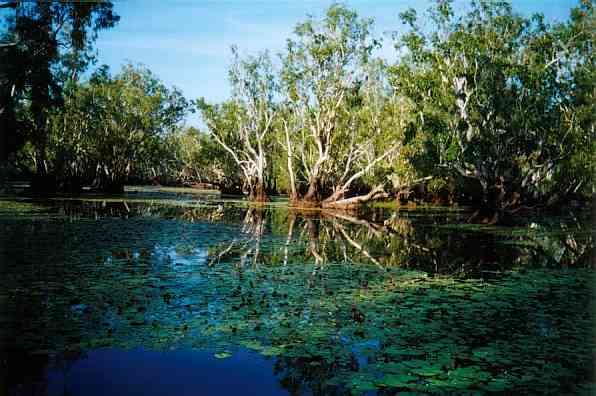 Riding in Kakadu National Park is always a pleasure, but there are times when I had my doubts. Specifically, these times are when scrub fires send huge plumes of thick black smoke all across the roads punctuated by the occasional shooting flame. After 4000km of cycling we can now sprint our bikes very fast indeed !!. All this smoke masking the high tropical sun makes for cooler evenings and lots of mist of the lagoons of the South Alligator River. The result was our sunrise cruise on Yellow Waters was through the thickest pea soup fog you could imagine in the tropics. Seeing the incredible array of wildlife was a rather hit and miss affair for a while, as we belatedly dodged the uncountable crocodiles lurking beneath the silvery surface. Even before the fog lifted we saw hundreds of birds, plants and carnivorous reptiles in the wonderful dawn light. Every bird sighting on or near the waters edge was pretty closely followed by the sighting of the croc, stalking the bird. Half an hour after dawn sitting silently (well as silent as a 50 person tour every gets) while drifting through a paperbark swamp was absolutely magical. I wish we hadn't run out of film here.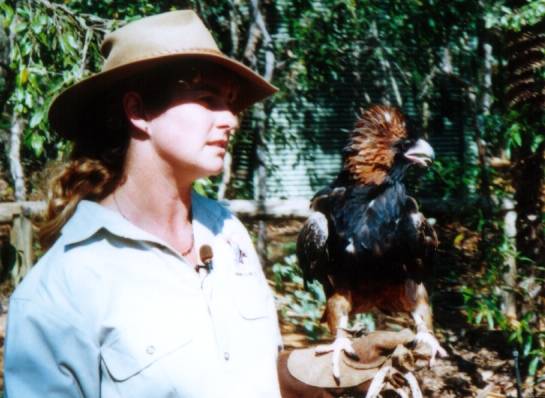 After a sensational day at the Territory Wildlife park, we set off to ride the last 60km of our trek into Darwin at 4pm. We still had 20km to go as the sun slipped below the horizon all too quickly. We didn't reach our hotel in Darwin until nearly 8pm , and then only after much swearing, getting lost and general panic as I tried to navigate Darwin's back streets spanning three folds of an inaccurate map . What should have been a triumph was a touch anti-climatic, and a relief to finish, but then the last 10km was always going to struggle to top the first 4500km.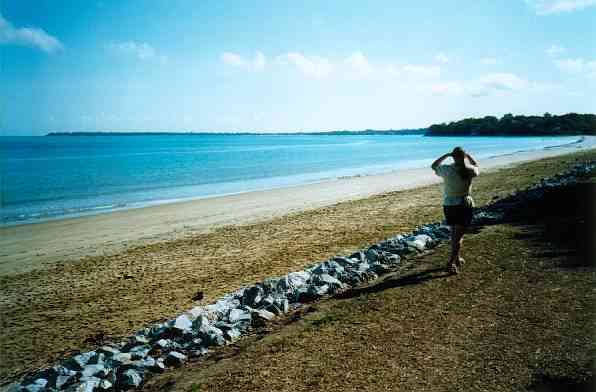 It's very easy to get into the swing of Darwin's hot and occasionally (Sept to March) humid weather. Just slow down a touch and try to remember that this is not really paradise, and it isn't like this all year. I'm told "the buildup" weather isn't quite so dreamy, when it gets hot and very sticky and you have to spend most of your time dealing with people who haven't been able to sleep properly the night before, when you haven't had enough sleep yourself. The locals refer to July as the "the chill", when it gets so cold Darwinites have to close some of their windows. As we sat in a park by the beach watching the tide go out, and out, and further out we reflected on how much easier it is to adjust to warm weather than to cool weather. It had been a magnificent trip, but unfortunately it was over.
David Fuller