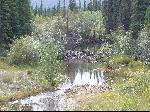 For three more days I cycled into vicious headwinds, past beaver dams some massive mountains, past the massive glacier fed Kluane Lake, over Bear Ck summit (and yes, I saw a bear there), through misty rain and occasional sunshine, to roll into the capital of the Yukon: Whitehorse.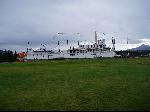 Right up until the middle of the 20th century, long after they disappeared elsewhere in the world, paddle steaming riverboats regularly puffed in and out of Whitehorse, the transport hub and capital of the Yukon Territory. The last of these magnificent vessels, the SS Klondike, is stuffed and mounted on the Whitehorse riverfront serving as a museum. Until very recently there were several other examples of this ancient around the territory, hoping to serve as hotels, restaurants or tourist offices. But being made entirely of wood, they have an unfortunate tendency to catch fire and burn down.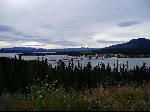 Two more days cycling the Alaskan Highway had me across the Yukon Plateau, crossing the mighty Yukon and Teslin Rivers, and over the great continental divide. Every 40 or 50ks there were roadhouses/RV Parks/Campgrounds on my tourist brochures. Freezing cold, low on water and desperate to get out of the increasingly heavy soaking rain I pulled into one such establishment. Even thought it was theoretically late summer, it was closed for the season, if not for good. Infamous retailer Wal-mart is blamed for the failure of these businesses. Tourists used to come up by car and camp along the way, buying supplies along the way too. Now they come in massive motor homes, having stocked up on everything they need (and 768 things they don't) at the previous large town's Wal-mart. I collected some rainwater dripping from the unguttered roofs, cooked some of my own food under a makeshift shelter and pushed on.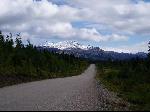 Not having maps in the Yukon Wilderness did not present the navigation challenge it might elsewhere. Junctions where decision need to be made are hundreds of kilometres apart, and could be made with help of an Atlas. So when the opportunity presented itself I turned right onto the legendary Cassier Highway. The Cassier is a tourist road with a well deserved reputation for extreme remoteness, magnificent scenery and abundant black bears. A cyclist I'd me who recently did this road complained of nearly crashing into wayward bears while descending hills. The bear bell I'd purchased in Anchorage was removed from my bike saddle and attached to my shoes.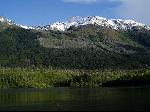 After 110ks of magnificent cycling I stopped for lunch and pulled from my panniers one of the few pieces of information I had about what lay ahead of me. A flyer for the private campground "Moose Meadows". It promising free firewood, covered camp sites (something I desperately wanted) and hot showers (something I desperately needed). In good conditions it was only 4 hours riding away, and allowing for one break, I probably had enough daylight to do it.

I'd yet to enjoy a day completely free of rain. Inevitably it meant stopping to get my raincoat out, putting it on (easier said than done over wet clammy cycling clothes), only for it to stop raining 5 minutes later where the process had to be repeated in reverse lest I drown in my own sweat. So as I approached the Cassier Mountains, I decided to just let myself get wet, and dry out when the sun came out 5 minutes later.

Two hours of gentle, not so gentle, and sometimes very steep climbing later, I was less than half way there. The rain had not stopped, just gotten steadily heavier. It was now about 5C, I was soaking wet, desperately needing to stop and feed but way to cold to do anything other than work as hard as I could on the bike to keep warm.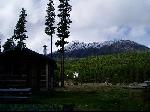 Three hours later the rain was so heavy I could barely see the road, let alone the mountains, rivers and lakes that I was vaguely aware surrounded me. My feet and hands were now completely numb, and I was in real trouble.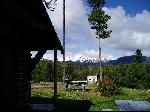 I made it into Moose Meadow camp ground 10 min sooner than I though. The last 10ks were down hill, and I was out of the saddle sprinting in a pathetic and rather futile effort to stave off my worsening hypothermia, having lost feeling in my arms up to my elbows and my legs up to my shins. I rode straight to the hot showers and jumped in fully clothed (or I would have if I'd thought of it). This also necessitated a naked streak across the camp ground to my bike collect my dry clothes.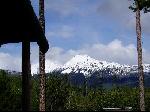 The next morning I discovered I'd cycled across a +1000m pass that was caked in snow just a few hours after I'd made my desperate crossing. Fortunately I'd landed flat on my feet at Moose Meadows, where I splashed out on a log cabin with a wood stoked fire and a rest day. Surrounded my mountains dusted with fresh snow, it was the closest place to paradise I've yet found in North America (at least in summer).

The Cassier Highway was everything I expected of it. It was remote, beautiful and mountainous. It was also frequently wet, cold and above all very very tough. My bear bell proved to be extremely effective. So effective that despite the endless warnings from RV drivers of my pending consumption by bears, I didn't see a single bear for almost a week. On the second last day (after I forgot to reattach my bear bell) I disturbed a mother and her cubs, not quite sure what to make of me.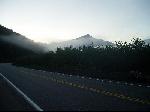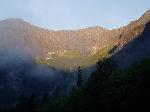 The Yellowhead Highway stretches from the Pacific Ocean to the heartland of Canada. I was warned to expect hills, rain, headwinds and general misery on this road. But I found a smooth, flat brilliantly sun bathed highway that snaked it's way adjacent the sensational Skena River, leading me back to the coast. And yes, I had a tailwind. Otters bathed, fishers fished, and the aqua water as I sped along the magnificent mountain lined valley.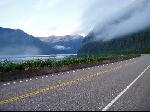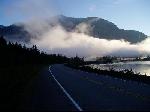 The second morning on the Yellowhead in particular was just incredible, one of the best days cycling I've done anywhere in the world. The sun burst through the multi-layered mist, decorating mountains already indescribably beautiful. In 5 directions at once incredible sights greeted my eyes. Given it rains 300 days a year here, I feel extraordinarily privileged to have seen it at it's magnificent best.

I caught a ferry from Prince Rupert at the end of the Yellowhead, down the legendary inside passage to the northern tip of Vancouver Island. Vancouver Island is both a major forest industry centre, and a playground for Western Canada's middle class. It was beautiful, but I seemed to be missing the glaciers and snowy peaks I'd seen further north. Closer to Vancouver I was even less impressed with the holiday towns and retirement centres where wealthy Canadians flee from their miserable city lives to re-create the same miserable life in a new and beautiful location. And for a place that bills itself as a remote getaway spot, Vancouver Island sure has it's share of freeways. To help make a desperately tight ferry connection I cycled for an hour on one of these freeways at night. The road was so big and so busy traffic needed the assistance of lighthouses to stay on the right path.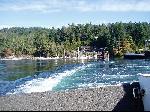 I'd been making judicious use of the back roads by ferry hopping along the inside coast of Vancouver Island. The summer to autumn timetable changeover necessitated some very tight connections, none tighter than on Salt Sprig Island, where to meet the next ferry, I had to cross it in under an hour. It might have looked short and flat on the tourist map, but it was seriously hilly, and substantially further than I'd guestimated.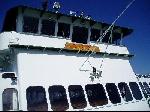 There was nothing for it but to suffer, working as hard as I could sustain, ignoring aching knees, complaining thighs and all forms of common sense to sprint from one end of the Island to the other. I thought I'd made the 21 seriously hilly Ks to the jump off town comfortably (OK, uncomfortably), until I discovered the ferry terminal was a further 2ks out of town. It was something of a shame, as this was one of the few places in the Vancouver Island region I really liked, and would like to have spent more time. But it was not to be, and another hour later I was on the SS Chelan heading back to the United States.