62 hours of trains, planes, taxis, airports, hotels and hostels later, I was on the ground in Anchorage, Alaska. It took me two more days to get my bearings, recover from jet-lag (no mean feat when the sun comes up at 3am) and buy the things I couldn't, didn't and just forgot to take with me. But at last, my panniers were loaded and I was on the road and raring to go.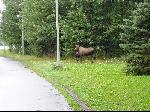 Just 1km from the hostel, before I'd even reached the official start of this trip the monument to Captain Cook in the heart of Anchorage, I had my first wildlife encounter. A Moose and her offspring were hogging the bike bike path.

Cycling out of Anchorage it was hard not to think the town would look an awful lot better covered in a big dumping of snow. Big ugly square box buildings, strip malls, trailer parks, beggars, traffic lights, drive through fast food, roadworks but most of all: endless carparks. Wet, greasy, gravelly carparks. This stretched on for kilometre after kilometre, and seemingly hour after hour till I emerged on the spectacular Seaward Highway. It was only then I had time to think of anything other than the next red light that I appreciated I'd forgotten to stop at the AAA office and collect some maps of where I was going.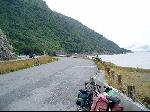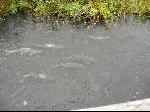 The Seaward Highway snakes along the water to the narrowest point on the Kenai Peninsula. After a couple of hours of watching the ocean and mountains sweep past, I almost stopped bothering to look. And once off the highway and riding up the Portage Valley, every little stream was literally bursting with spawning salmon, each being fed by their own private glacier.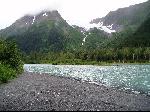 After being pestered all evening by a hungry squirrel I heard something rustling about my tent. I was so tired all I managed was a half hearted "bugger off" before drifting back to sleep. The next morning I found my tent and bike surrounded by black bear tracks.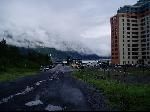 I hitched a lift through the shared road/rail tunnel (one lane, bikes banned) to Whittier, a curious fishing town where almost everyone lives and works in a single big ugly centrally heated building sitting just below a massive glacier. From there I took one of the world's most spectacular ferry rides, across the legendary glacier lined Prince William Sound.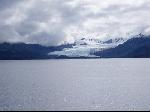 As the boat plucked it's way through the frolicking whales, porpoises and occasional iceberg, something of a miracle occurred: the sun came out! Not that it made much difference to the temperature.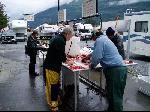 Valdez (whose official pronunciation was changed to "Valdeez" to make it sound less Spanish. ???) loomed on the horizon beyond the oil terminal, shrouded in perpetual drizzle. I camped in the rain amid several thousand massive RVs that have flocked here for just one thing: salmon fishing.
Without maps, and just a vague idea of where I was heading I cycled out of town in the early morning light and rain, with temps at a balmy 10C. I was hoping for a sign with some distances on it to the next town, gas station, anything, but saw nothing. The road snaked up the river, into the wind towards the one geographic feature I knew was ahead of me: Thompson Pass.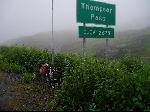 After more than three hours of cycling and nearly two of challenging, suffering climbing in the rain the summit emerged from the mist. I felt totally smashed and not just a little sick. Niavely lugging enough water for two days in the Australian Outback certainly didn't make it any easier. There was no time to rest. I was freezing, so I took one quick photo (cutting out the massive glacier that usually accompanies photographs of the summit sign), put on a few more layers of clothes and thundered off down the hill in a vain effort to get warm.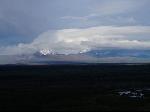 A massive tailwind propelled my exhausted body past sensational views of the Copper River and the Wrangell Mountains to the east and eventually past Glennallen. The next day this incredible scenery continued as I plied the wide, smooth and almost deserted American highways, interrupted only by stretches of road works, which bike are not permitted to ride over. For no obvious reason, cyclists and their bikes are loaded into the vehicle that escorts the regular traffic between the lollipop ladies for segments of otherwise perfectly good road.
With seemingly unlimited daylight, I cooked and ate my evening meal, packed up and cycled for another two hours, getting beyond Mentassa pass in the process (without realising it). I felt I'd been awfully lazy not getting out of my tent for the several freezing hours after dawn. But I was still on the road cycling before 6am. I managed to cycled a long section of roadworks I'd been warned was impassable to cyclists before the road workers had got out of bed, and in Tok (an ugly town I'd foolishly scheduled a rest day at) before anything had opened.
The rain started again as I headed into the Tetlin nature reserve and the Canadian border. After three hours my feet had frozen numb, I was loosing sensation in my hands, and I pulled into a roadhouse where the temperature gauge read 8C. After drying my clothes and reviving my feet I cycled off in a blissful break in the rain. The temp fell to 6C.
The road here follows the original Alaskan Highway route, which was built in a blind panic during WWII. This alignment was deliberately chosen to have no flat or straight segments so the Japanese could not use it as a runway. And with a brisk tailwind this means only one thing: fun cycling!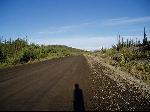 As I crossed the border into Canada two things occurred: the road suddenly got much worse, the weather suddenly got much better. At one point I wondered why a farmer had made two farm tracks up over a hill, until I realised these tracks were actually the highway. But with the sun back in the sky I was enjoying the cycling, and pushed on well beyond any sensible limit to reach the White River camp ground just before dark: at 10:30pm!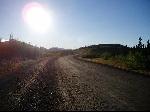 This insanely late finish, combined with the absence of Alaskan cloud allowed me to enjoy one of natures greatest spectacles: the Northern Lights. They started slowly, but by midnight the display was in full swing, spanning the entire sky with a shimmering display of greens and crimson linings the likes of which I'd never seen, and are unlikely to see again.